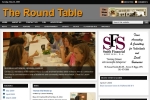 Editor-in-chief and nonprofit founder: Sanah Jivani does it all
Sanah Jivani is a pretty ambitious senior. Not only is she editor-in-chief of The Legacy Press at Klein Collins High School in Texas, but she's also the founder of a nonprofit organization and the creator of her very own international holiday. Recently, we had a chance to speak with Jivani about her organization, her goals, and how being part of a newspaper has impacted her life.
Jivani was diagnosed with alopecia–an autoimmune disorder that causes hair loss–at three years old. By middle school, she had lost almost all of her hair, and began wearing wigs to hide her condition. Her classmates bullied her, and her self-esteem hit rock bottom.
But then, one day, Jivani looked in the mirror and saw something else. "Instead of noticing that I was bald, I noticed my beautiful brown eyes…I noticed the beauty I carried just by being me," she said.
So Jivani stopped wearing a wig and started loving her natural self, bald head and all. She created International Natural Day in hopes of helping others embrace their inner (and outer) beauty. On Natural Day, which falls on February 13th, "you allow yourself to be your own definition of beautiful," she said.
The once-shy Jivani now speaks at schools and other organizations, telling her story and encouraging others to join her movement. She credits her four years at The Legacy Press with helping her overcome her fear of public speaking. And, she says, it was all a big accident.
"I got stuck in a journalism class I didn't want to take," Jivani said. She was a freshman in high school, and none of her friends were in the class. However, she slowly made new friends, and realized she loved writing. Journalism, she said, "taught me the power of storytelling… it taught me how to tell my own story as well as other people's."
Jivani also believes that being editor-in-chief has taught her how use social media as a tool to spread awareness. "Social media is basically my best friend," she said. To get the word out, she uses the hashtag #naturalday, and tweets at celebrities in hopes that they'll retweet her to their audiences. They often do.
Ultimately, "being editor-in-chief taught me how to be a leader," Jivani said. International Natural Day has inspired chapters and events in 28 countries so far, and it's quickly growing thanks to her leadership. To find out more about the movement or about Jivani, check out the International Natural Day website.
https://snosites.com/wp-content/uploads/2009/05/roundtable.jpg
100
150
Tom
https://snosites.com/wp-content/uploads/2020/07/SNO-Sites-_-Logo-website-1.png
Tom
2015-05-21 18:16:11
2015-05-21 18:16:11
Editor-in-chief and nonprofit founder: Sanah Jivani does it all